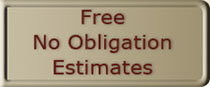 "The quality is second to none. I never thought that a roofer would be so personal and understanding of my family's needs."
Thank you,
The Jones Family
Queen Creek, AZ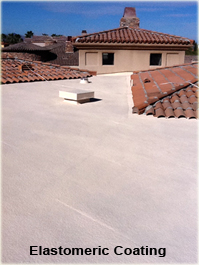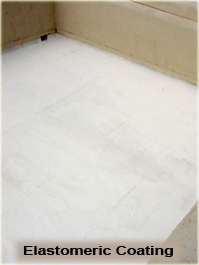 ROOF COATINGS



Roof Coatings are primarily used to extend the life of the roof it is being applied to. A roof coating can be used on many types of roofs including metal roofs, shingle roofs, rolled roofing, and is commonly found on flat roofs. Flat roofs include many commercial roofs, patio roofs, and are often on Pueblo style homes. Some homes have partial tile roofs with partial flat roofs.

The coating is liquid in form and the chemical composition of the coating needs to match the type of roof it is being applied to (concrete, metal, asphalt, fiberglass, etc.). A roof coating is an added layer of protection on a completed roof that seals and waterproofs the materials used to create the roof.

Elastomeric Coatings have rubberized type properties in the material that allow for expansion and contraction with the weather. The liquid coating flows into the cracks and crevices, sticks to the current roofing material, and dries forming a seamless watertight protective surface. Coatings reflect some of the suns UV-rays and help reduce cooling costs for your business or home. White is a popular color in this area because of its naturally reflective cooling properties. Coatings are also available in other colors to compliment the existing look of the business or home. Small marble granules can also be broadcast into the coating. The granules create a light texture to the coating helping to break up sunlight's harmful rays adding even further protection.

Coatings can also be applied to some aging roofs, adding years of life to the roof. This can be a cost-effective solution to sealing and waterproofing a roof that has potential concerns. Talk with our Licensed Roofing Contractor to see if a coating is a good roofing solution for your situation.

We are experienced in providing an excellent quality, evenly spread, watertight, roof coating that complies with material specifications for proper water drainage. We can properly build up low areas minimizing or eliminating water ponding in the coating, providing a long lasting roofing solution.

Maintenance
Keep the coated areas of the roof clean from dirt buildup and debris. Check occasionally for cracks, blisters, or thinning areas commonly found along the edges of the coating as it ages.

Our Team
When you call us, our Licensed Roofing Contractor with over 15 years of roofing experience, will listen to your concerns and offer you expert knowledgeable answers. We offer free estimates, liberal warranties, competitive pricing, quality materials and excellent application craftsmanship. Whether you need the roof cleaned, penetration points sealed (Pipes, Vents, Etc.), cracks or blisters repaired, or a new roof coating, our skilled professionals work with attention to details for a properly done job. We understand your time is important and strive for minimal disruption during your project. Respecting your property, jobsite cleanliness, your satisfaction, and professionalism are of primary concern to our company and our roofing employees.

Service Area
Primarily servicing the Phoenix East Valley including Gold Canyon, Apache Junction, Mesa, Gilbert, Chandler, Tempe, Fountain Hills, Scottsdale, Phoenix, San Tan Valley, Queen Creek, AZ.