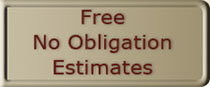 "The quality is second to none. I never thought that a roofer would be so personal and understanding of my family's needs."
Thank you,
The Jones Family
Queen Creek, AZ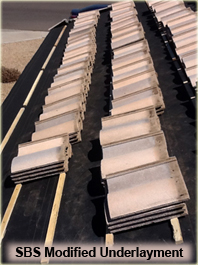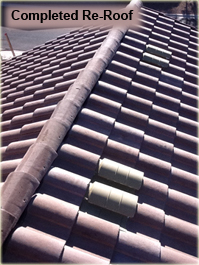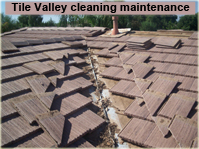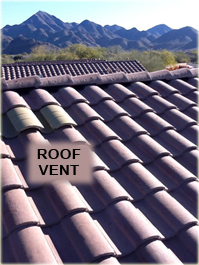 TILE ROOFING



Tile roofing can add attractive color and beautifully enhance your business or homes appearance. Tile is available in many colors, shapes and styles. Common types of tile in the Phoenix valley are concrete tile, and clay tile. Clay is generally a heavier tile while concrete is generally more cost-effective. Some tile shapes include Flat Tile which has a flat straight appearance, S-Tile which has a high arch half circle appearance, Villa Tile which has more of a W shape and a rolling hills appearance, and 2 piece tile which has a curved arched under pan piece and a curved arched top piece. The tile will drain a large percentage of the water from the roof and help protect the underlayment. The tiles themselves can last many years with minimal replacements needed from occasional cracking or damage.

Underlayment
The primary protector of a tile roof is the underlayment. This is generally a thick protective felt like material that lays on the plywood (Deck, Sheathing) of the roof under the tile. The tile can be in perfect condition while the underlayment is deteriorated, curled, cracked, or has enough dirt & debris collected on it to create the risk of leaks and potential damage to the roof.

A Few general examples of underlayment materials are:
30 pound felt is a basic protection material.

SBS Modified underlayment is stronger, more flexible, and has rubberized modifiers in it giving it elasticity in extreme weather conditions and a longer life span. We commonly use SBS Modified as a quality cost effective underlayment even on simple repairs.

Rolled Roofing can be a good choice for an even longer lasting underlayment material. Rolled roofing is an external material commonly used on patio roofs but may also be used as an option under tile. This is generally more expensive upfront but can be cost effective in the long term.

There are many specific types of underlayment materials to choose from even within the three examples listed. If Re-roof is a consideration our licensed roofing contractor will discuss the underlayment options with you and the best roofing solution for your situation. The less expensive price is not always the best option choice.

We professionally install the underlayment, furring strips, edge metal, appropriate flashing, properly seal pipes, T-tops, A/C Units, skylights, chimneys etc. and correctly reinstall the tile to ensure a watertight roof. We take pride in our work backing it with a liberal warranty, and care that your roof work is completed using quality materials, with experienced professional installation.

Maintenance
Maintenance can help maximize the life a tile roof. The Monsoon dust storms and those walls of dust we all see on the news carry a lot of dirt, and debris that gets blown into and deposited on a tile roof. The rain usually follows washing the dirt off the tile, yet some of that dirt can make its way into the cracks of the tile.

Many homes and businesses have peak areas and valleys in the design of the roof. When its raining water rushes down into the valley areas of the roof and is then channeled towards the ground. The valleys of a tile roof are good areas for maintenance due to the extra amount dirt and debris collected under the tile. This dirt can build up over time creating a dam effect, causing water pooling and improper drainage, which can be the cause of a leak in the roof.

Over time the sealant used around penetration points can crack or deteriorate and flashing may need to be re-sealed or properly installed. Having the valleys cleaned, replacing damaged tiles, sealing penetrations (Pipes, T-Tops etc.), around A/C units, Chimneys, and checking mortar caps has the potential of significantly extending the life of the roof and help prevent leaks.

Roof Vents
Ask us about roof vents. These are metal vents shaped like your tile and are about the size of two tiles. They have the appearance of a slightly raised tile on the roof and can be installed to add air circulation and help keep your roof cooler during the hot summer months.

Patio Roofs
Many tile-roofed homes also have patios attached to them. See information about patio roofs on our Shingle Roof page.

Our Team
Our professional roofers are trained and supervised by our Licensed Roofing Contractor and are committed to proper installation with excellent craftsmanship and attention to details that will provide a long lasting roof whether it is a complete re-roof or a simple repair.

When you call us you will speak directly to our Licensed Roofing Contractor with over 15 Years of roofing experience. Whether you are looking for a roof maintenance, simple repair, or a long term roofing solution, you will receive experienced knowledgeable answers to your concerns. We offer free estimates, liberal warranties, efficient service, competitive pricing and the quality materials you prefer. We understand your time is important and strive for minimal disruption during your project. Respecting your property, jobsite cleanliness, your satisfaction, and professionalism are of primary concern to our company and our roofing employees.

Service Area
Primarily servicing the Phoenix East Valley including Gold Canyon, Apache Junction, Mesa, Gilbert, Chandler, Tempe, Fountain Hills, Scottsdale, Phoenix, San Tan Valley, Queen Creek, AZ.