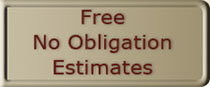 "The quality is second to none. I never thought that a roofer would be so personal and understanding of my family's needs."
Thank you,
The Jones Family
Queen Creek, AZ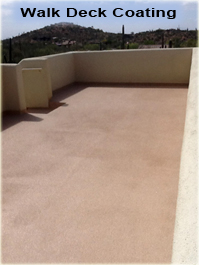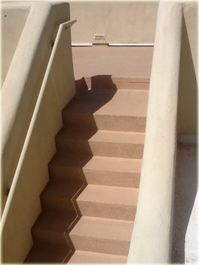 WALK DECKS



Walk decks are a flat surfaced area on the roof or side of a building intended for foot traffic. Their structure is generally wood or concrete based. Many homeowners have walk deck areas to enjoy the surrounding scenery from an elevated perspective.

Walk Deck coatings are liquid in form, generally thicker and more durable than a roof coating to handle being walked on. Poly Coat has elastomeric (rubberized) properties allowing for expansion and contraction with the weather changes. The liquid coating seals the walk deck as a watertight seamless surface, and can offer some UV-ray sun protection to help keep the deck cooler in the hot summer months.

Installation & Protection
With a walk deck coating there is generally more than one coat applied. Color options are available as well as slip resistant traction materials. There is usually a bottom coating, followed by granules being broadcast into the coating for traction on the walk deck. A common choice for traction is a sand like granule. Some walk decks have a rubberized type granule, which offers a softer feel. A liquid top coat can then be applied on top of the granules for a smoother feel to the walk deck.

There are many types of walk deck coatings and processes. Talk with our Licensed Roofing Contractor to find the best coating options and applications for your walk deck.

Our professional roofers are trained and supervised by our Licensed Roofing Contractor. We properly build up low areas, install any metal flashing needed, and follow drying guidelines between coatings to be sure an even, smooth, watertight, seamless sealed coating is applied with attention to details that provide for a long lasting walk deck.

Maintenance:
Keep the walk deck clean from debris and dirt buildup. As the walk deck ages watch for blisters, cracks, or thinning of the coating in high traffic areas and along water run off edges.

Our Team
When you call us, our Licensed Roofing Contractor with over 15 years of roofing experience, will listen to your concerns and offer you expert knowledgeable answers to your questions. We offer free estimates, liberal warranties, efficient service, competitive pricing and quality materials. We understand your time is important and strive for minimal disruption during your project. Respecting your property, jobsite cleanliness, your satisfaction, and professionalism are of primary concern to our company and our roofing employees.

Service Area
Primarily servicing the Phoenix East Valley including Gold Canyon, Apache Junction, Mesa, Gilbert, Chandler, Tempe, Fountain Hills, Scottsdale, Phoenix, San Tan Valley, Queen Creek, AZ.